ISBN: 978-0-9536647-1-9
FORMAT: Hardback
PRICE: £18.95
Salonika, 1916: a city more than half-Jewish, which – until a few months ago – was one of the jewels in the Ottoman crown. It is now suddenly Greek. A city nominally neutral, but teeming with French, British and Serbian armies, to hold it against the Austro-German forces to the north, with their Bulgarian allies. A city seething with intrigue, where café society pursues its way unperturbed, within earshot of the fighting, where the foreign soldiery seeks its pleasures among the shabby streets, and where the native inhabitants are eager to make from them what money they can. We are in The Birdcage – named after the miles of tangled barbed wire which separate the city from the fighting to the north. It is the Casablanca of WWI.
In Clive Aslet's sparkling fiction debut this kaleidoscope of nations, cultures and political ambitions shifts and re-forms around a group of English men and women, blown here by many different winds. Welcome to a world of perilous ascents – and abrupt descents – from military kite balloons; of madcap journeys by mule, by Wolseley motor car and by foot over the grim northern mountains, where the opposing armies are locked in combat; of U-boats lurking off the city; of sinister and dangerous Gazmend Effendi, who may be Turkish – or is it Bulgarian? Or even Venezuelan? And where is all the petrol disappearing to? The breathless ride is just beginning.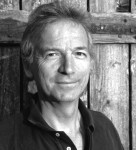 Well-known as a journalist, Clive Aslet is author of many books on architecture, style, the countryside and the British way of life. Research for a recent book (War Memorial, Viking 2013) was the inspiration for The Birdcage, his first novel. For many years editor of the magazine Country Life, he is now its Editor at Large.


ACCLAIM FOR THE BIRDCAGE
'Aslet's cast of dreamers, adventurers and plotters put on a stylish and entertaining tragi-comic show.' Boyd Tonkin, Senior Writer, The Independent
'Prose touched with irony like vermouth in a good martini. The characterisation is very assured, the dialogue pitch-perfect and the sense of time and place precise without ever seeming obtrusive. The plotting is deft and delicate; his mines, laid with such apparent artlessness, go off one by one as the book approaches its surprising and satisfactory conclusion.' Jason Goodwin, Country Life
'Like Birdsong, but funny. An entertaining writer… he can tell a tale very engagingly.' The Spectator
'Clive Aslet's eccentric and exuberant first novel is a fabulous yarn… artfully and humorously arranged. A twisty, pacy plot.' Kate Saunders, The Times